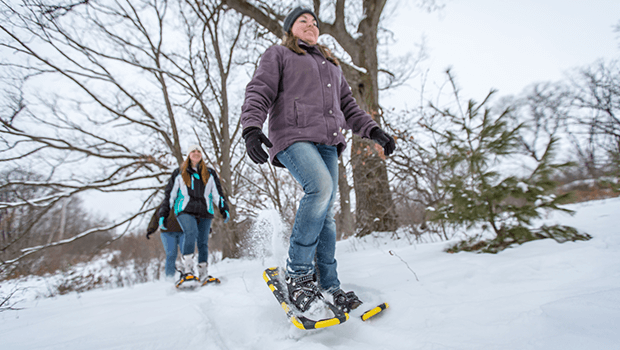 Winter Fun: Eight Great Ways to Enjoy Winter in the Northwoods
Load up your fat bike, ice fishing equipment, or your favorite book and enjoy a trip up north this winter. Located in the northwest part of the state, Washburn County is home to the quaint communities of Birchwood, Spooner, Minong, Stone Lake, and Shell Lake. The area offers a peaceful Northwoods getaway with cozy cabins, modern hotels, a bed & breakfast train ride and even a yurt. In addition to plentiful lodging, you'll find a wide variety of activities to enjoy during the winter months as well. Here are our top picks for your Washburn County getaway this winter: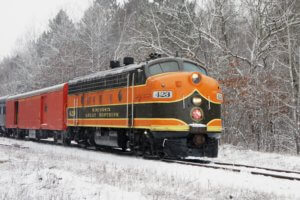 Take a winter train ride! Year 'round fun can be found on the tracks of the Wisconsin Great Northern Railroad just north of Spooner. In addition to the Santa's Pizza Train Ride, the only moving Bed & Breakfast Dinner Train also runs throughout the year. It's a great opportunity for anniversaries, birthdays, or even just a quick weekend getaway.

Over 11 miles of the Wildcat Mountain Bike trail are expertly groomed for fat bike during the winter by local bike enthusiasts during the winter months. Wildcat is located between Spooner and Stone Lake, just off Highway 70 and provides incredible trail riding through vast county forest land. Ample parking is available and the trails are well signed to mark your way. Maps are available on our website to view the trail system ahead of time. Fat bike rentals are available in Spooner for those that need one. The winter scenery on fat bike is something you won't want to miss.

Explore Spooner's downtown area with the Spooner Tin Ceiling Tour. Over a dozen of the historic buildings have exposed their original tin ceilings and they are definitely a work of art! The brochure will lead you through the rich history of the downtown area. While you're wandering around, you'll be sure to stumble upon many great specialty shops, most of which are open during the off season.

The Namekagon River, part of the national park system, offers incredible opportunity for winter hiking and is a photographer's dream in the winter. In addition to the Namekagon, there are two other major rivers, the Totogatic & Yellow, thousands of lakes and incredible wildlife throughout the county. You'll definitely want to check out Hunt Hill Audubon Sanctuary which offers over 600 acres of winter wonderland to photograph and explore.

Art classes are plentiful this time of year in Washburn County. Acrylic painting, knitting, quilting, crocheting are just some of the opportunities that pop up regularly on our event calendar. You'll also find numerous paint & sip parties at local establishments.

Visit the only certified organic winery in the Midwest. Clover Meadow Winery & White Wolf Distillery is located just west of Shell Lake and offers a variety of incredible wines for tasting. In addition, the café offers delectable treats to accompany your wine.

Snowshoeing is a great way to enjoy the outdoors in the winter. The area offers over 50 miles of snowshoe trails and even some great back-country snowshoeing opportunities as well. Snowshoe rentals are available at a number of locations throughout the county.

Get away from it all at Namekagon Waters Retreat. If you're looking to disconnect for a while and enjoy some quality time with your loved one, be sure to check out this unique lodging property. At Namekagon Waters you will stay in a yurt, nestled in a 40 acre retreat setting. A twenty-four foot diameter domed tent of canvas over a wood lattice framework, this four-season dwelling is heated by a wood fireplace and offers an outdoor privy and electric lights. Water is carried to the site for hand washing and drinking. Even in this quaint setting, you'll still experience luxurious amenities; Namekagon Waters offers a sauna and massages by appointment.
To plan your winter getaway, visit www.washburncounty.org/winter-fun or call 1-800-367-3306.