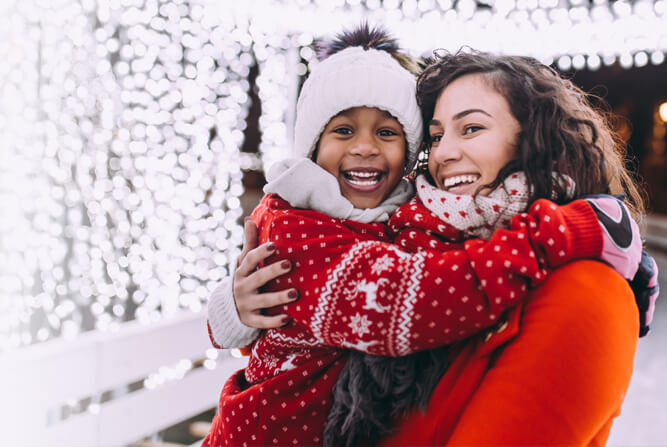 Winter Festivals in Wisconsin
In Wisconsin we love our festivals no matter the time of year, and we seem to have a fest for anything and everything. So embrace the chill this winter, lace up your boots, bundle up and get outside- here are some travel-worthy festivals across the Badger state to take the whole gang to!
---
Winter Fest in Wausau
January 25, 2020
Fun for the whole family with horse drawn carriage rides, the yearly Ice Golf Tournament, romantic ice skating, Olympic-centric curling, and an opportunity for arts and crafts. Bring your biggest fork and indulge in the mac & cheese contest, story time and kids projects. Located in the 400 block downtown.
Visit Festival Website | Explore Wausau
---
Snow Sculpting Championship & Winterfest in Lake Geneva
January 29 – February 2, 2020
Celebrating 25 years with a timeless winter carnival, enthralling snow race, divine chili cook-off. Get up close to see the U.S. National Snow Sculpting contest as the sculptors make their one of a kind creations on site!
Visit Festival Website | Explore Lake Geneva
---
Winterfest in Fish Creek
 January 31 – February 2, 2020  
Experience wintry fireworks, live music,  a Stumpfiddle contest, winter games, the ever popular Fruit Loop Fun Run, Smokin' Hot Chili Contest and partake in all things chocolate.
Visit Festival Website | Explore Fish Creek
---
25th Annual Apostle Islands Sled Dog Race in Bayfield
February 1 – 2, 2020
An extraordinary wintertime adventure awaits you in Bayfield. Cheer on your new found favorite sled dog team as they race through the Bayfield Peninsula, cuddle up next to your favorite folks, and sip hot chocolate by the bonfire. Meet the mushers and enjoy some classic lasagna too!
Visit Festival Website | Explore Apostle Islands
---
Winter Festival in Cedarburg
February 15 – 16, 2020  
Decorated beds (that you sleep in/on) covering the ice, an ice golf tournament for all the golf fans having withdrawals from their favorite sport, camel rides, a chili cook-off contest, the grandest grand parade and a communal pancake breakfast.
Visit Festival Website | Explore Lake Geneva
---
Chetek Winterfest in Chetek
February 21 – 22, 2020
Expect to find snowmobile races, a not so chilly bikini run with a fun bunch of casual runners, plenty of options for toasty food and so much more!
Visit Festival Website | Explore Chetek
---
Madison Winter Festival in Madison
February 1 – 2, 2020
Join the masses in Elver Park for ice skating and ice hockey, some curling, cross country skiing, candle light ski & snowshoe, learn to ski workshops, fat bike ride and more.
Visit Festival Website | Explore Madison
---
Hot Air Affair in Hudson
February 7 – 9, 2020  
Hot Air Balloons, a mysterious and magical moon glow at night, a variety of engaging rides, syrup covered pancake breakfast, ice craving, and a craft fair you won't want to miss. A premier winter balloning event, fun for everyone and beautiful everywhere you look!
Visit Festival Website | Explore Hudson
---
Why hibernate this winter when you can get out and enjoy all the great festivals that are only found in Wisconsin?