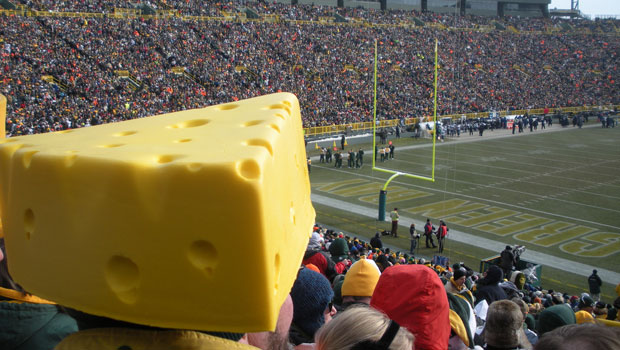 What's a Cheesehead?
If you've ever been called a "Cheesehead" or have heard that word somewhere else, then listen up! Whether you're from Wisconsin or a fan of the Green Bay Packers, we're all cheeseheads at heart!
Where did the term originate?
There's always been a loyalty with fans for their sports, both in Wisconsin and down in Illinois. After the Chicago Bears won the Super Bowl in 1986, they were on Cloud-9, and began ridiculing citizens from Wisconsin and calling them "Cheeseheads", since Wisconsin is known as America's Dairyland.
In 1987, Entrepreneur Ralph Bruno stumbled across an idea, a Cheesehead hat. He made the original Cheesehead out of his mother's couch cushion to proudly wear the term "cheesehead" at a Milwaukee Brewer's game. After seeing the reaction and how popular it was, Ralph saw an opportunity and jumped at it by making and selling foam hats which are shaped like wedges of cheese, and Foamation was born! You may recognize these hats if you've ever looked among the crowd at a Green Bay Packers Football Game.
Located just south of Milwaukee in Walker's Point, Wisconsin, Foamation Cheesehead Factory is the original creator of the foam Cheesehead. Besides the Original Cheesehead Hat, Foamation has expanded to other headwear and even apparel such as bowties & earring! You can't go wrong with can koozies, trophies and much more, all cheese-shaped! Although originating in Wisconsin, Cheesehead products are now sold in every state in the U.S. as well as 30 nations around the world! 
The Foamation Cheesehead Factory will soon be offering tours and venue rentals, so you can walk through or celebrate your special occasion in a true Wisconsin-fashion! Be sure to pick up a Cheesehead Hat for your next tailgate and show your Wisconsin pride!
It's all about the love of cheese!
For more information or to purchase your own Cheesehead product, please visit: www.cheesehead.com/