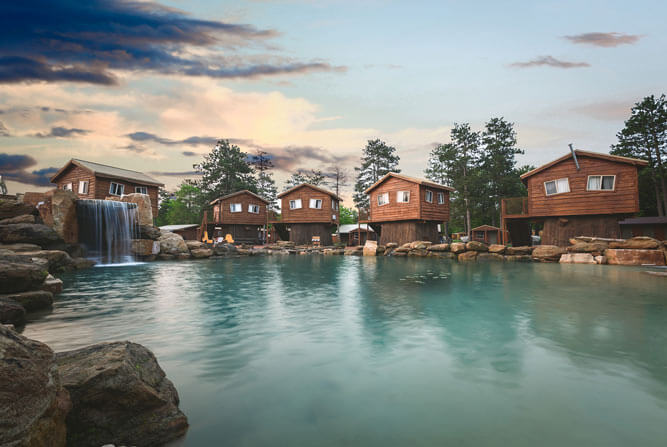 Unique Wisconsin Rental Properties
Are you planning a getaway in Wisconsin? You could stay in any standard hotel or vacation home from Kenosha to Superior … or you could stay in a truly unique Wisconsin rental property. From huge inground hot tubs to Frank Lloyd Wright masterpieces, this list of unique properties is sure to make your getaway one to remember!
Wisconsin Dells, WI
American Resort & Treehouses has many different lodging options including tiny homes, getaway homes, cabins, campsites, and of course treehouses. The Treehouses surround the state's first and only natural lagoon. Each treehouse sleeps 4 with a queen bed and bunk beds. The treehouses have air conditioning and heating, microwave, refrigerator, TV with HD programming, and outside sitting area. With a REBRAND on the rise, stay tuned for this property to be transformed into Natura, Treescape Resort in the months to come.
Green Lake, WI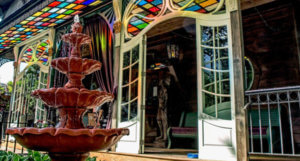 This large retreat can comfortably accommodate up to 12 people. The "House of Cool" has lots of amenities, including The Big Dipper, a 20' inground hot tub. When you're not hanging out in the hot tub you can play an antique slot machine, pinball machine, tuned piano, or jukebox. Slide down the fireman's pole or spin around on the dance pole. If fishing is your idea of a great vacation, this property is located on Lake Puckaway which is home to the state record holder Northern Pike of 38 lbs.
Richland Center, WI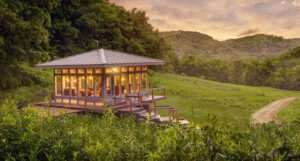 There are many lodging options at Candlewood Cabins including The Barn which is designed for families and small groups with nearly 3,000 sq. feet of ample space spread out across two floors. The Meadow House sleeps two. The 360-degree panoramic view of the meadow and woods from the second floor "observation deck" are why you have to reserve two years out. The Woodland House sleeps two. The most striking features of this cabin are the spiral stair tower and multi-level deck. The Glass House is nestled in the woods, just a short walk from parking. The bedroom, which sleeps two, provides panoramic views of the surrounding nature with floor to ceiling windows on all four sides. A footbridge connects you to all of the other amenities, including a full bath and kitchenette. The other accommodations on the property include rustic log cabins and a tiny home of just 480 sq. feet.
Maple, WI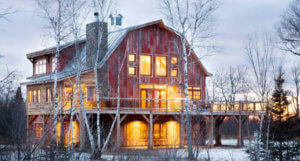 The Lake Superior Barn is a 4,240 sq. foot home with 6-bedrooms, 4-bathroom that can easily accommodate 20 people. The barn was built from the reclaimed lumber, steel, and nails of 7 turn of the century Midwest barns and sits on 320 acres in the remote wilderness of northern Wisconsin and is surrounded by the Brule River State Forest making this the only lake home for miles! The barn has no satellite or cable TV, but there is a well-equipped game room with ping pong, foosball, cards, board games, and plenty of books. The outdoor sauna and hot tub are both wood-burning which adds to the rustic charm.
Lake Delton, WI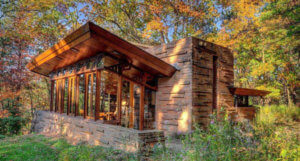 Frank Lloyd Wright designed this 880 sq. foot cottage at nearly 90 years old for Seth Peterson and his intended bride. The cottage is balanced on the edge of a steep wooded hill overlooking Mirror Lake. Over the past two decades, this cottage has had over 10,000 overnight guests from almost every state in the country and many foreign countries.