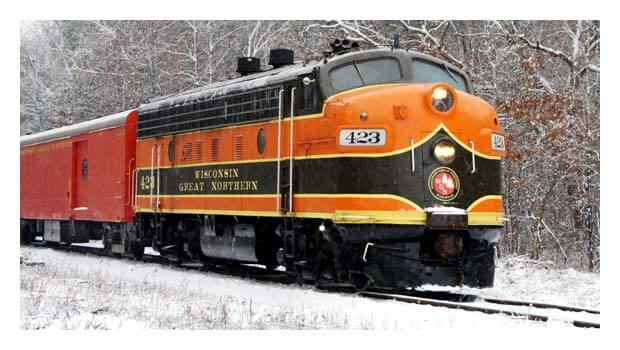 Top 10 Winter Activities in Washburn County
As the snow begins to fall in the north woods of Wisconsin, the area turns into a winter wonderland for outdoor adventurers. Washburn County is a great destination during the winter months. Whether you wish to hit the trails, cuddle up with a good book in front of the fireplace, grab a beer at the local brewpub, or catch a trophy fish on one of the area lakes, Washburn County will not disappoint. Year-round shopping make the downtowns a great place to spend some time and be sure not to miss the Tin Ceiling Historical Tour in downtown Spooner while you're there. Here are some ideas to get you started in planning your winter getaway to Washburn County:
---
All aboard! Take a ride back in time on a historic train with the Wisconsin Great Northern Railroad. Located just north of Spooner, the WI Great Northern offers the only moving Bed & Breakfast Dinner Train in the United States! Enjoy a delicious meal as you roll through the beautiful north woods of Wisconsin, enjoying the gorgeous winter scenery. After dinner, you'll meander back to the depot where you'll spend the night in a historic sleeping car, waking up to a home-cooked meal before you depart for home.
---
A 600 acre winter wonderland welcomes you at Hunt Hill Audubon Sanctuary near Sarona where you can hike 13 miles of snowshoe trails. Rentals are available in the area if you didn't bring your own pair. Be sure to stop by the office for a trail map and recommended hikes for your experience level. Hunt Hill offers an extremely diverse habitat made up of forests, meadows, and glacial lakes. Be sure to grab a birding book and binoculars to try and spot some of our winter residents.
---
Ice skating is a great way to spend some time with your family. There are several outdoor rinks available in the area for the warmer winter days. In addition, be sure the check out the Spooner Civic Center where the conditions are always perfect. The civic center offers open skate multiple times per week and hosts a skating party every Friday night. Skate rentals and sharpening are also available.
---
If you're looking for the perfect sledding hill, look no further than Heartwood Conference Center & Retreat, just northwest of Trego. For a small activity fee, enjoy their 700 acre winter paradise all day long. The sledding hill offers snow tubes, so no need to bring your own sled. In addition to the snow tubing, explore winter fat bike, cross country ski, and snowshoe trails. They also have a Broomball court if you're looking to get a little competitive.
---
Be sure to look up at the ceiling when you're walking through Spooner's Historic Downtown. Several of the shops have exposed their original tin ceilings and they sure are a work of art! A brochure is available at the visitor center to guide you as you walk through the shops and offers a glimpse into the history related to the buildings as well.
---
If you want to explore deep into the woods this winter, be sure to rent a snowmobile and hit the trails. Washburn County offers roughly 240 miles of expertly groomed snowmobile trails, connecting to a Northwest Wisconsin's vast trail system. Snowmobiling is one of the most popular ways to enjoy the winter scenery.
---
When it's time to come in from the cold, consider heading to the area's new brewpub, Round Man Brewing Co. for a flight of their delicious new brews. If you're looking for some family time, head over to Northwoods Lanes for some bowling or over to Quarter's Arcade where all the games are just a quarter! For a great date night, head to Spooner's historic theater located right downtown. The Palace Theatre has been a mainstay of Spooner since it opened in 1938; here you'll experience movies like they were meant to be.
---
Grab your cross country skis and head to Spooner City Park where you'll find well groomed trails for both skate and classic skiing. Located right in town, the trails are conveniently located between the three schools with the trailhead at City Park. If you're looking to ski a little later in the day, be sure to check the map for the lighted ski trails; excellent for a little night-time skiing.
---
Nearly 1,000 lakes decorate the landscape of Washburn County. Winter brings fishing enthusiasts from all over the midwest to try their hand at catching some trophy fish through the ice. Popular species include walleye, northern, bass, crappie and bluegill.
---
For a little family fun or a romantic afternoon with your loved one, call On Twin Lakes to book a sleigh ride. This horse-drawn ride winds through their over 400 acres where you get to take in the beautiful snowy countryside.
---
For more fun winter ideas, visit: washburncounty.org/winter-fun
Photo Credits:
(1) – WI Great Northern Railroad/Steve Smedley
(2) – Washburn County Tourism/James Netz
(3) – Washburn County Tourism/James Netz