The Wisconsin Dells
From some of the biggest waterparks in the country to boat tours through the majestic Dells, Wisconsin Dells has a little bit of something for everyone.
The city is located in south-central Wisconsin, and straddles two counties Sauk and Columbia. Boat tours primarily travel through the majestic Dells formed by the Wisconsin River. Other fun outdoor activities include tubing down the river, fishing, or renting a boat.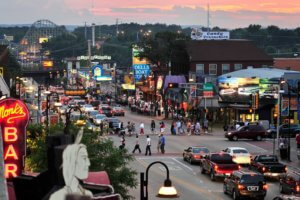 The area also has become the unofficial capitol of waterparks, including Noah's Ark, Kalahari Resort, Great Wolf Lodge, Mt. Olympus, and the Wilderness Resort, to name a few. However, any trip to the Dells would be incomplete without stopping by downtown or taking a duck tour. Yes, it's full of tourist traps with t-shirt shoppes and kitschy attractions galore – but that's part of the charm.
If you decide to venture out, it might be a good idea to set expectations with the kids – tell them they can pick one or two things to do or set a budget. The Dells area offers a unique blend of amusement park fun, quirky tourism, and a chance to explore nature in your own way! Question is …when will YOU book your next trip?