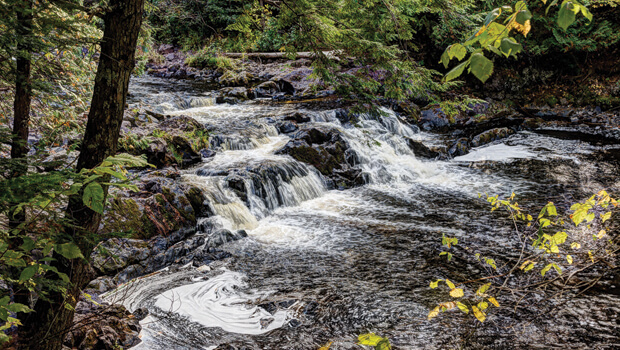 State Parks That Will Leave You Breathless
We are so lucky to have a large number of State Parks in Wisconsin that all offer their own natural beauty and great outdoor activities. Whether you enjoy hiking, camping, having a family picnic, or one of the dozens of other outdoor activities, these State Parks in Wisconsin are sure to leave you breathless.
Copper Falls State Park is located in Ashland County and features beautiful waterfalls situated among deep gorges where ancient lava flows used to settle. The waterfalls are easily accessible and getting there involves a gorgeous hike through the towering pines! Don't forget to stop by the concession stand for their Sunday Pancake Breakfast each week between Memorial Day and Labor Day.
Peninsula State Park is up on the northern tip of Door County and provides visitors with sandy beaches along Lake Michigan, hiking trails, biking trails, and professional theater performances in the summertime. Within the park, there's a 1860's lighthouse to climb and see the scenery as well as an 18-hole golf course to enjoy while visiting!
Interstate State Park is located around the St. Croix River on the Wisconsin/Minnesota border. There are 9 miles of hiking trails on the Wisconsin side of the river as well as many campsites. If you travel to the other half of the park on the Minnesota side, be sure to get your Minnesota State Park Sticker.
Where the Wisconsin River meets the mighty Mississippi just south of Prairie du Chein, Wyalusing State Park provides beautiful forest, water recreation, and natural history. It is located in the Driftless area of Wisconsin, meaning that territory remained ice free during the last ice age, while the land to the east and west was crushed by glaciers. Check out the high bluffs and unique rock formations when visiting Wyalusing State Park
Canoeing, kayaking, paddle boarding, and biking are the main recreational rentals offered at Potawatomi State Park. This park, established in 1928 is located on Sturgeon Bay in Door County and offers campsites and hiking trails to get out and explore. For those of you who have hiked part of the Ice Age State Trail through Wisconsin, Potawatomi State Park is the eastern most end of the trail.
Pattison State Park is home to Big Manitou Falls, the highest waterfall in Wisconsin at 165 feet. Established in 1920, Pattison State Park is home to hiking trails, a nature center, and a 300-foot sand beach on Interfalls Lake, which provides the perfect environment for swimming! Within the park, take a stroll on Logging Camp Trail, and see some of the remains of Pattison's old logging camp by the Black River.
Near Wausau, Rib Mountain State Park is home top Granite Peak Ski Area, a reservable amphitheater, and over 15 miles of hiking trails! It can be seen from Interstate 39 as you're traveling through the center of the state. The whole mountain is composed of quartzite which is a very hard rock and makes the mountain one of the highest elevations in Wisconsin.
Devil's Lake State Park, the Largest and most visited State Park in Wisconsin is home to many different hiking trails, water rentals, and campsites which all surround Devil's Lake. Located in south-central Wisconsin, Devil's Lake does not allow any motors or motorboats on the lake, as to preserve the beauty of the area. The bluffs that surround the lake make it a unique place to hike, with trails above the bluffs, and trails below!
Check out all the great State Parks to explore around Wisconsin by clicking HERE!