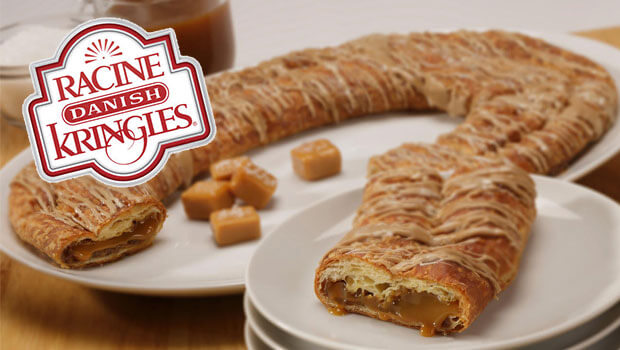 Spotlight On: Racine Danish Kringles!
Did you know that Kringles, the "Official Wisconsin Pastry" are made right here in Racine, Wisconsin? Racine Danish Kringles are a third generation family owned company that take the same time-honored tradition of Kringle making as the first Danish bakers in the late 1800's.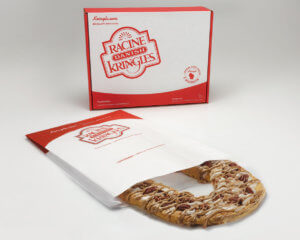 To make a Kringle requires both time and patience.First, the Danish dough is hand-folded over and over into 81 different layers before resting for 3 days. Then, the Kringle is filled with a generous amount of mouth-watering fillings before being hand-formed into the traditional oval shape. Next, the Kringle is baked to a flakey and delicate golden-brown. Lastly, the Kringle is hand-iced, creating a truly one of a kind authentic Danish Kringle. Although most prefer to enjoy them at room temperature, heating them up in the oven at 275 degrees for about 3-5 minutes make them even more irresistible.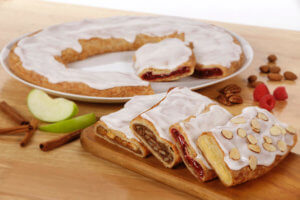 Today, the company makes over 35 unique flavors, including Kringles for every season! This Summer, be sure to pick yourself up a Coconut Kringle or Key Lime Kringle! Each Kringle can be cut into anywhere between 10-14 slices, each an inch and a half wide. Whether you choose to share is up to you!They also produce many other pastries, such as cheesecakes, brownies, and cinnamon buns under their Aunt Marie's brand. Now that you've worked up an appetite, Racine Danish Kringles can ship their pastries all around the United States, Puerto Rico, & Canada. They are also available at many midwest retailers, including Piggly Wiggly, Costco, Meijers, Festival Foods, Sentry, Woodman's, and many more!
Be sure to pickup a delicious Racine Danish Kringle on your next visit to the supermarket, remembering it's the "Official Wisconsin Pastry".  If you can't wait, you can order online and visit their online store HERE!