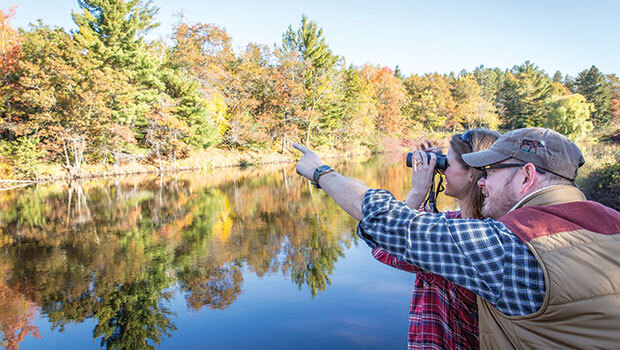 Outdoor Adventures for Fall in Washburn County
Sure, you could stay inside with a great book and warm cup of hot cocoa this fall, but don't you want to get out and enjoy the crisp fall air and take in the vivid colors? While there are many fun ways to enjoy Northwest Wisconsin during the fall months, these are ideas for the folks who just love getting out and enjoying the fresh air.
Fall Color by Water: Rent a pontoon and take a tour of Long Lake. This 19 mile long lake offers stunning scenery with access to multiple restaurants, bars, lodging and gas. You can truly make a day of "cruising the lake" when you plan a pontoon trip on Long Lake.
Explore on Foot: With approximately 1/3 of Washburn County being public forest land, it's no wonder that one of the most scenic ways to explore the fall colors is on foot. There are roughly a dozen hiking trails within the county that offer a variety of lengths from beginner hikes to longer, intermediate hiking options. A local favorite are the trails at Hunt Hill Audubon Sanctuary in Sarona. They offer over 10 miles of loops through wide prairies and dense forests. Another great trail is the Trego Nature Trail. This trail is located in a free National Park and runs along the Namekagon River, part of the St. Croix National Scenic Riverway. Dogs are welcome on both trails with a leash. If you'd like to do some wildlife viewing, be sure to stop by the Washburn County Visitor Center where you can check out a birding backpack for no charge.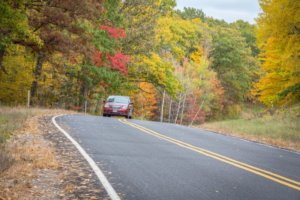 Fall Color Driving Tour: Four loops wind through the country roads of Washburn County and offer exceptional fall color viewing. Along the way, you'll find many points of interest such as an artesian well, several art galleries, giant fish statues, scenic rivers and so much more.
Spooner Tin Ceiling Tour: If you're looking to go for a walk, but don't want to venture too far off the beaten path, head to Spooner to explore the new Tin Ceiling Tour. Over a dozen historic downtown buildings have exposed their original tin ceilings and they are incredible! Follow the brochure to find out some of the interesting history of the businesses and the owners that once wandered the downtown.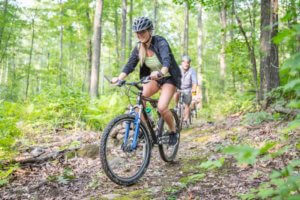 Ride through the Colors: Grab your mountain bike or rent one from Saw This in Spooner and head out to the Wild Cat Mountain Bike Trail just east of Spooner. This 19 mile trail offers a combination of single track, double track and even some gravel roads for a wide variety of riding skills and experiences. The fall season is the ideal time to enjoy this trail and view the incredible changing colors of the county forest.
ATV Scenic Tour: What time of year could be more scenic than fall to hop on an ATV and enjoy the vast forests of Washburn County on the ATV Scenic Tour? This tour offers over 35 points of interest along the 100+ mile ATV trail system. UTV's are also welcome on the trail and are a great way to enjoy some time with your loved ones. If you don't own your own machine, rentals are available at The Main Store and other great establishments.
Golf with a view: If you love golfing, but need a change of scenery, be sure to consider heading to one of the area golf courses during the fall season. There are three incredible courses in Washburn County that all offer great views. Black Bear Golf Club in Minong, Spooner Golf Club and Butternut Hills Golf Club in Sarona all offer 18 hole courses, driving range and restaurant options on site.
Paddle the Namekagon: The Namekagon River is a little-known gem in Northwest Wisconsin. The river is part of the St. Croix National Scenic Riverway and is a free national park to explore! Several outfitters are available along the river to get you set up with a canoe or kayak to enjoy the incredible beauty the river offers. You can go out for an hour or even a few days as there are plentiful camping options along the river as well. The Namekagon was one of the original eight rivers designated as a Wild & Scenic River by the Wild and Scenic Rivers Act of 1968. This river is truly amazing to experience during the fall color season.
For more information on ways to explore Washburn County in the fall, visit our website at www.washburncounty.org/what-to-do/fall-colors