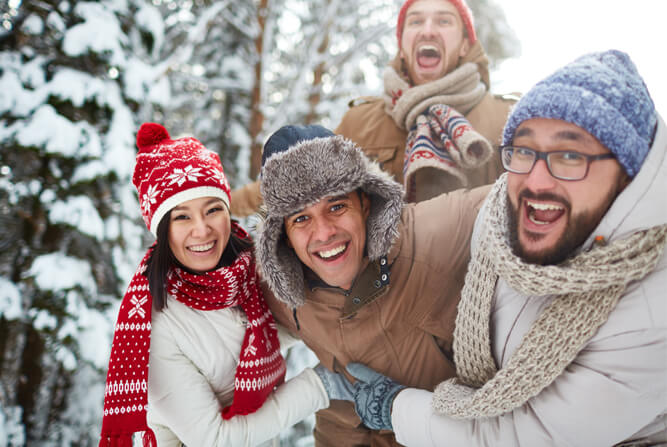 Our Wisconsin Winter Bucket List
Winters in Wisconsin are notorious for a lack of sun and a lot of cold- so it's important to take advantage of the sun when it makes an appearance and soak up some vitamin D. Find a Winter sport or activity that gets you outside – it's sure to put a smile on your face and keep you healthy. Check out snowmobile and cross-country skiing trails, ski hills or try ice fishing! What are you waiting for? Grab your mittens and boots and enjoy some frosty fun!
1. Enjoy a Warming Winter Bonfire
Grab your loved ones and snuggle up to talk and laugh the chill away. Whether you head outside to build a fire, or cozy up to the fireplace inside after enjoying the outdoors-  the s'mores will be good.
2. Learn How to Snowshoe
…or just bundle up and get outside for a hike and explore! Wisconsin has more than 250 snowshoe trails to take advantage of whether you're wearing snowshoes or simply your most comfortable winter boots.
3. Two Words: Ice Caves
Gaze in wonder at the amazing ice caves on the Apostle Island National Lakeshore, weather permitting of course! According to the National Park Service, these caves are formed by waves splashing up against the rocks and freezing along the sandstone cliffs. Look for large ice formations, hanging icicles, and columns of beautiful ice curtains.
4. Attend a Dog Sled Race
Check this one out: The 25th Annual Apostle Islands Sled Dog Race is held February 1- 2, 2020. Multiple spectator locations are available along the course with warming tents, concessions and bonfires.
5. Go Snowmobiling
With more than 25,000 miles of trails it's no wonder snowmobiling is a Wisconsin winter favorite. For those who don't want to be in the driver seat of one of these fast-moving machines, stop in and see the World Championship Snowmobile Derby in Eagle River Wisconsin from January 16th– 19th 2020. Eagle River is known as "The Snowmobile Capitol of the World". It is also home to the World Snowmobile headquarters which showcases the people and machines that started the sport, and tells how it has evolved throughout the years.
6. Be a Participant in a Polar Plunge
Typically these events raise money for charitable organizations such as Special Olympics, so taking a plunge into the chilly water supports a good cause. Held in 10 different cities across Wisconsin in February, you are sure to find a location near you.
7. Do Some Ice Fishing
Nearly a quarter of the fish caught in Wisconsin were reeled in under ice. There are 15,000 lakes in Wisconsin so there are plenty of lakes to check out. We know that every avid fisher has their own secret fishing holes, but some of the top areas to ice fish in Wisconsin include the La Crosse Mississippi River area, Lake Winnebago, and Boom Lake near Rhinelander.
8. Build Endurance with Cross-Country Skiing
Wisconsin has over 700 groomed trails for you to explore! Cross country skiing uses every major muscle group, and is one of the best ways to build endurance and burn off those post-holiday pounds.
9. Hit the Ski (or Tubing) Slopes
We are fortunate in the Badger State to have more than 24 great ski and snowboard resorts that are among the best in the Midwest. Skiing not your thing? Then take the family tubing, a still fast yet easier way for a whole group to have fun on the slopes.
10. Lace Up and Skate
No matter your skill level, there is nothing like gliding freely over the ice on freshly sharpened ice skates – so grab your sweetheart by the hand and take some turns around one of Wisconsin's many local ice rinks. A great outing for the whole family!
As you can see, there's no excuse for cabin fever- so get out, bundle up, and embrace the Wisconsin Winter!