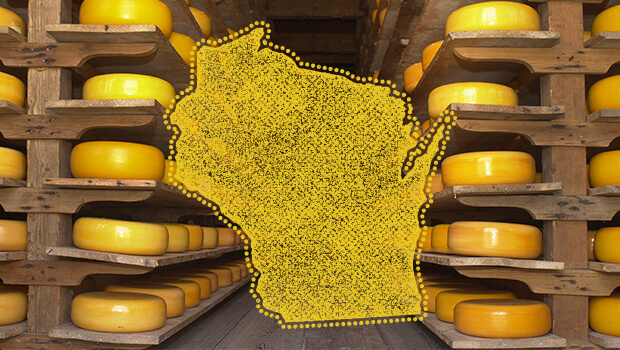 What Makes Wisconsin Unique
Wisconsin is a unique state. From our super loyal Green Bay Packer Fans to a city with the infamous title of "Beer Capital of the World", there is so much to love about America's Dairyland. Although we have some traditions that other states might find whacky, most Wisconsin residents tend to find them pretty normal….for the most part. Below are a few good examples of crazy Wisconsin traditions, foods, slang, and things that make this state one of a kind!
1) Friday Fish Fry's & Fish Boils
On Friday nights, over 1,000 different eateries around Wisconsin participate in this weekly tradition. Although typically Cod is served, some bars and restaurants serve other types of fish, such as perch and haddock. Other establishments, more specifically up North have weekly Fish Boils, especially in the summertime.
2) Meat Raffles
In many rural towns and villages, one way of fundraising is hosting a meat raffle. For the most part, it's just like a regular raffle, but you can win different slabs or cut of meat!
3) Bubblers
Can you point me in the direction of the bubbler? Huh…? Other states call these water fountains or drinking fountains, but here in Wisconsin, we take our refreshing breaks at Bubblers!
4) Cheese
You can probably name over 10 different types of cheese. Try asking someone down south to do that. Cheese makes a good snack or topping, and compliments pretty much any entree. There are over 100 Cheese Stores, Shops, and Factories around the state.
5) Cheese Curds
Whether you like them fresh and squeaky, or deep-friend and gooey, Cheese Curds are a Wisconsin delicacy. You can find them at certain grocery stores, restaurants, and festivals around the state.
6) Shorts at 40 Degrees
This one is different. When the weather hits 40 degrees Fahrenheit after a long, brisk winter, nothing feels better than busting out a pair of shorts that have been folded up in the bottom drawer since last November.
7) Up Nort'
As kids, most of us remember spending the weekends at our cabin Up Nort', meaning somewhere in the central to northern part of the state, probably on a lake.
8) Loyal Sports Fans.
Most residents in Wisconsin refer to the Packers as "We" and most of us who never attended UW-Madison own some sort of Badger wear. From tailgating to painting our bodies, Wisconsin sports fans are some of the most loyal in the country!
9) The list is infinite!
Between Culver's being founded in Wisconsin, our Annual Brat Fest taking place every spring in Madison, and the yummy Cream Puffs at the State Fair, there are an infinite number of great qualities that set Wisconsin apart from the rest of the country. Feel free to add to the list in the comments below!