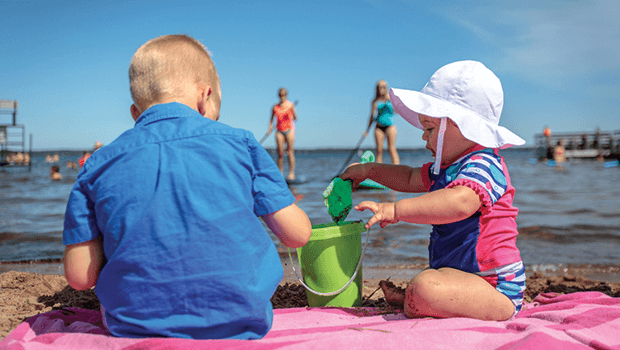 Make Washburn County your Family's Destination this Summer
Summertime: school is out, the weather is beautiful, and that means it is time for a family vacation! Why not make Washburn County your family's destination this summer? While you're here there's lot to do…so let's give you a few of our family favorites!
Visit the Namekagon River, it just so happens to be Wisconsin's Moving National Park! One of our great outfitters along the river will be able to help you out whether you're looking for canoes, kayaks, or even tubes – they've got it all. It makes for a great way to spend an afternoon. For the more adventurous families, consider an overnight trip on the river. There are several river access campsites along the Namekagon.
So maybe you'd rather soak up some rays near the water instead of being in it… you'll definitely want to head to Shell Lake Beach! This sandy hotspot is a great place be on those warm summer days. By far one of the best beaches in Northwest Wisconsin, Shell Lake beach offers great amenities. The kids will have fun playing on the playground or swimming out to the rafts while you enjoy the sunshine!
Everyone knows what makes a hot summer day even better… ice cream!! No matter what part of the county you're in there's going to be a little ice cream shop tucked away. If you're in Spooner, The Dock Coffee or the Treat Depot are yummy options. Jack's Canoe in Trego serves West Dairy (of Hayward) ice cream. Minong has the classic A&W but don't forget about The Scoop on Main Street. Long Lake is lucky to have The Hive serving up a bunch of local favorites. And Shell Lake has Scoop N Brew, Matt's Ice Cream Truck, and you'll even find some flavors at The Potter's Shed. If you're down in Birchwood, check out Ed's Pit Stop and in Stone Lake head over to The Last Frontier. As you can see there's lots of options to fulfill those sweet tooth needs!
Speaking of The Potter's Shed… there's fun for the whole family there! Take on the Creative Zone – mom and dad might even want to do some creating of their own. Whether it's painting your own pottery or making a wooden sign you're sure to leave feeling like an artist. If mom and dad want to take a night away you'll want to check out Music at the Shed!
Are you looking for something a little more adventurous? Washburn County is home to hundreds of miles of family friendly ATV trails. You'll wind through the northwoods and along shore lines making it a beautiful journey. Whether you're experienced riders or beginners the trails are great for all to take on. ATV rentals are available nearby, along with guided ATV rides.
A vacation wouldn't be complete without finding  some souvenirs, right?! You might find yourself shopping in downtown Spooner and the kiddos are losing interest, but not for long.. Send them on a fairy door hunt! Many of the downtown Spooner shops are home to intricate, little fairy doors, all unique to the shop they are at. If you're looking for a map to make the hunt a little easier you can stop by the Washburn County Information Center to pick up your map, you could even find the souvenirs you want to bring home with you!
 Link to our website: www.washburncounty.org