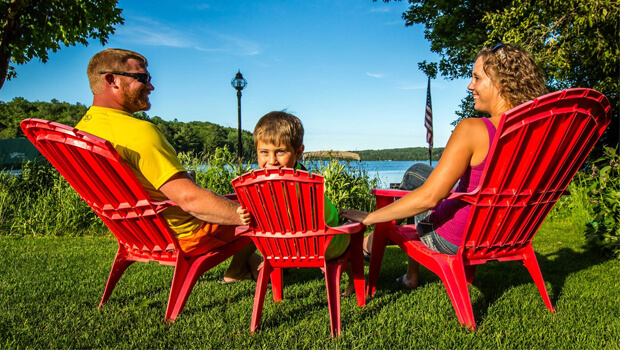 Last Chance Summer Getaway in Washburn County
It's already August. If you feel like your summer is quickly slipping away, you aren't alone. Here are some great last minute getaway ideas to enjoy summer in Washburn County before the kids head back to school and the fall colors begin to pop.
Spend some time catching (and eating!) fish on Spooner Lake with Captain Rick Anderson. AAA Sport Shop, located near Spooner Lake, offers a Gill Getter fishing trip which includes a day of fishing, bait, beverages and shore lunch for four people on an area lake. It's a great way to enjoy a day on the lake with your family or friends.

Make it a train day! Head to the Railroad Memories Museum in Spooner to explore over 13 rooms of railroad memorabilia. The museum is housed in the original Chicago & Northwestern Depot and offers a unique glimpse into Spooner's rich railroad history. Afterward, head over to the Wisconsin Great Northern Railroad north of Spooner for a ride on a historic train car. If you catch the evening dinner train, you'll enjoy a 3 hour ride with amazing food and the scenery of the Namekagon River: Wisconsin's Moving National Park. If you're looking for a shorter ride, check out one of the sightseeing train rides for a nice 45 minute experience. Whichever ride you choose, you'll really feel like you're riding back in time. If you're looking for an overnight trip, look into the Bed & Breakfast train ride or the hotel specials offered by the train ride.

Get away from the crowds to enjoy a "boundary waters" type of trip without having to travel quite so far. Check out Sawmill Campground and the Birchwood Canoe Trails for a quiet, back-country trip. Situated in a vast piece of county forest land, the Sawmill area offers a unique opportunity to be off the grid with primitive camping and marked portage trails. The portage trails connect 16 glacial lakes, well known for their abundant pan fish populations.  

Rent an ATV or bring your own to enjoy one of Wisconsin's premier ATV destinations. Over 100 miles of well-groomed trails connect to surrounding areas, making Washburn County an incredible destination for ATV enthusiasts. UTV's up to 65 inches are welcome on all Washburn County ATV trails. There are plentiful lodging options with direct trail access and several restaurants along the trail to satisfy your stomach. Free ATV information packets are available by contacting the visitor center.

Plan your trip around an upcoming festival or event in the area. From farm tours to small town festivals, you're bound to find some fun events to entertain the whole family. Of special note in August is Shell Lake's Town & Country Days. Held Labor Day weekend, the festival begins on August 31st this year and offers great events like a sailboat regatta, street dance, tractor pull and so much more!
With all of these great getaway ideas, don't let the rest of summer fly past without scheduling in one last weekend with the family. For more ideas and to start planning your trip, visit www.washburncounty.org.