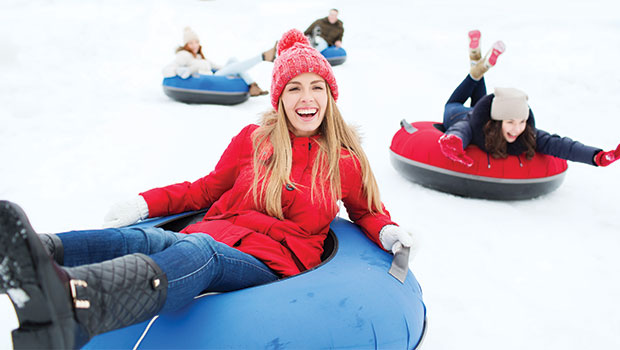 Head Outside for a Snow Tubing Adventure!
The anticipation of sitting on your tube at the top of a snowy hill is enough to get your heart pounding. One little push or scoot forward, and you're sent flying down the hill with the cool air brushing against your roses cheeks. You don't need to be a kid to enjoy the fun that goes along with snow tubing, you just need a good sense of winter adventure!
Cascade Mountain
Portage, WI
Ride the surface lift to the top of the hill and then plunge down the multiple 900' long chutes as you race your friends at Cascade Mountain. Snow tubing is open every day of the week. Check out Cascade's website for current hours of operation.
Sunburst
Kewaskum, WI
Sunburst Winter Sports Park in Kewaskum is the Largest Tubing Park in the World! There are two-hour sessions, 5 1/2 hour sessions, and season passes available to get your full fix in snow tubing. Sunburst is open 7 days a week! 
Badlands Sno-Park
Hudson, WI
This epic snow-tubing park features 6 different lighted run, from Bunny Hill to Turbo Tubing! Go around curves and through tunnels at this adventurous Snow park! Ride the rope to the top of the hill and set off. Rates start at just $17/day!
Wilmot Mountain
Wilmot, WI
Located at the Wisconsin/Illinois border, Wilmot Mountain offers 22 snow tubing lanes, each over 1,000 feet long! There are 2 conveyor lifts to take you to the top of the mountain, and then you can race your friends to the bottom! With the Winter Season in full swing, it's time to get outdoors and take advantage of the  tubing hills around Wisconsin. Happy Snow Tubing!