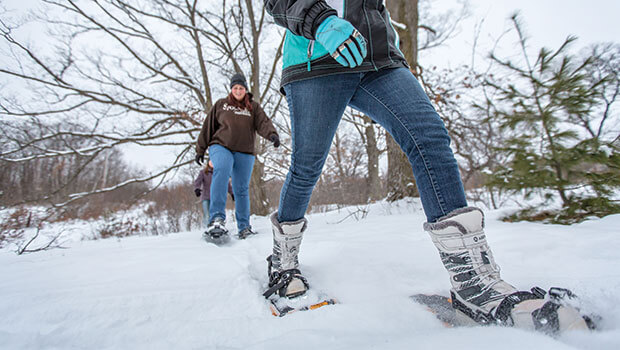 Explore Washburn County This Winter!
It's winter time in Wisconsin. That means that old man winter has graced us with frozen lakes and snowy trails. What a great time of year! Whether you want to set up a shack on one of our nearly 1,000 lakes and catch a trophy northern or you want to jump on a snowmobile and explore the over 150,000 acres of forest land in Washburn County, you're bound to find something fun to do this winter. Here are some fun ideas to get you outside & exploring the area during this enchanting time of year.
Grab your camera and head to the Namekagon River landings or snowshoe along the river on the Trego Nature Trail. Winter is our favorite time of year to photograph the Namekagon. While some of the wildlife may be sleeping, you'll likely see Gray & Red Squirrels, White-tailed Deer, and a variety of birds including Cardinal, Canada Goose, Mallard, Ruffed Grouse, Wild Turkey, Great Horned Owl, Pileated Woodpecker, and Blue Jay. If you're lucky, you might even spot a Snowy Owl. When viewing any wildlife along the river, please remember to keep a good distance away, using only a telephoto lens for close-ups, so you don't disturb them.
If you'd rather take some photos from indoors, think about hopping on a sightseeing train on the Wisconsin Great Northern Railroad. A variety of trains are offered during the winter months and the daytime rides are great for catching a peek at the winter wonderland as you roll down the tracks.
Book a stay at one of the area resorts for a cozy winter cabin experience. A list of winter lodging is available on our website. If you're looking for something just a little different, check out Heartwood Conference Center & Retreat in Trego. The lodge and cabins sit on an incredible 700 acre piece of true north woods. There are recreational trails for snowshoeing and cross country skiing. Rentals are available at the lodge for guests. In addition, the property has access to snowmobile trail 8 and is an incredible destination for snowmobile groups as well.
Speaking of snowmobiling, Washburn County is home to 240 miles of expertly groomed trails. The trails wind through public forests and across private land covering literally hundreds of thousands of scenic acres. Our local trails link to the largest network of snowmobile trails in the Midwest. Snowmobile friendly businesses are abundant throughout the county and offer easy trail access. Whether you're looking for a cozy trailside cabin, a modern hotel room, or even a welcoming bed and breakfast, you're bound to find a lodging property to suit exactly what you're looking for. Snowmobile trail conditions can be found on our Trail Conditions page and are updated daily with honest, accurate reports.
If you're looking for a quiet trail experience, be sure to head out to Hunt Hill Audubon Sanctuary where you can snowshoe over 11 miles of trails. Hunt Hill is home to over 600 acres of pristine forests, meadows, lakes and trails. Just off the beaten path, Hunt Hill provides a serene winter wonderland to explore and truly experience the beauty of the area.
With nearly 1,000 lakes throughout Washburn County, you will definitely be able to find the perfect honey hole to land your trophy fish. After all, Washburn County is home to the Walleye and Bluegill capitals of the state. The area lakes have an abundance of fish species that you can pull through the ice; whether you're looking for panfish or to land your trophy Northern, the ice fishing around here won't disappoint.
If you're looking to stick a little closer to town, head to Spooner or Shell Lake to enjoy a self-guided tour around town. In Shell Lake, take the mosaic tour to view several amazing mosaics created by local artist, Mary Dosch, and other community members. In Spooner, pick up a copy of the Tin Ceiling Brochure to learn about the history of the downtown buildings and view the original tin ceilings which have been exposed in over a dozen stores.
For more information on planning your winter getaway, order your Washburn County Winter Fun Packet today!