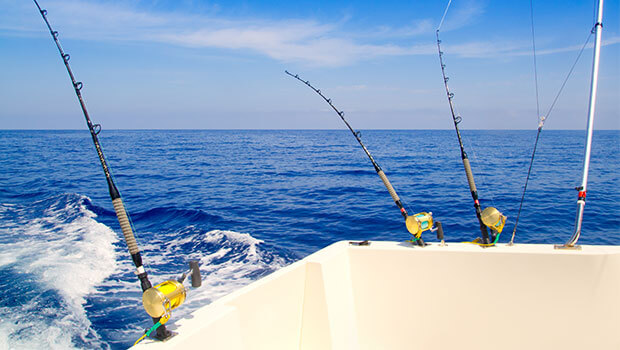 Experience a Charter Fishing Trip to Remember
Being surrounded by Lake Michigan, Lake Superior, and dozens of other lakes to explore, Wisconsin is a prime spot for Charter Fishing. Grab your fishing poles, bait & tackle, and head out on the water at these recommended Charter Fishing places around the state.
Just off of Lake Michigan in Sheboygan, Dumper Dan's is known for having the #1 Fishing Port for Chinook Salmon! Their tours can either be 5 hours, 8 hours, or multiple day trips, as they offer Lodging & Charter Packages. Dumper Dan's is home to Sheboygan's Largest fleet of Charter Fishing Boats. For more information, click here!
Port Washington is home to many great Charter Fishing excursions. Charter Captains Association of Port Washington is a great resource for exploring the many Charter Fishing trips available up there. Flying R Charters and Reel Screamer Sport Fishing both offer great tours for catching all different types of fish! It doesn't matter if you're searching for Coho Salmon, Rainbow and Brown Trout, or Chinook Salmon, the expert guides on your trip will show you how to catch a big reel!
Located both in Downtown Milwaukee and in Racine, Silver King Charters advertises as the best trout and salmon fishing on Lake Michigan! The beginning of the summer is great for catching Coho Salmon, and near the end of the summer, the Chinook Salmon start biting! Silver King Charters offers both 5 hour and 8 hour fishing trips, each with a no fish, no pay policy!
Summer is the perfect time to get out on the boat for your private Charter Fishing adventure. To get started, be sure to check out: https://www.wistravel.com/play/charter-fishing/