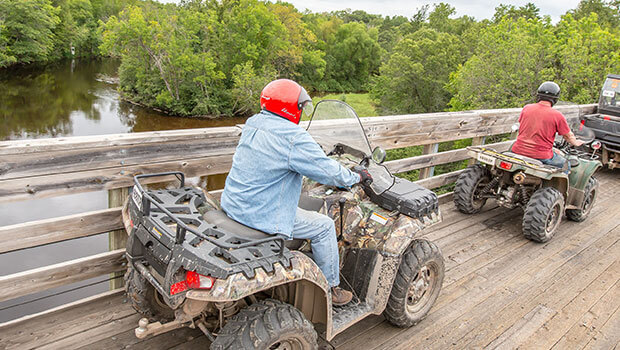 Best ATVing in Washburn County
ATVing. That one simple verb brings loads of excitement for young and old alike. What do you think of when you think of "ATVing?" Do you think of getting together with friends to explore places that you simply can't reach by vehicle? Do you think of getting away from it all and spending some time in the vast forests of Northwest Wisconsin? Whatever comes to mind, you'll definitely want to plan a trip to a little county in Wisconsin with a whole lot of trails! Washburn County is home to over 100 miles of scenic trails. Nowhere else will you find the very unique ATV Scenic Tour where you can climb on your machine and explore over 35 points of interest along the trail system. One of our favorite stops on the tour is the Birchwood Bluegill, a giant bluegill which welcomes you to the ATV-friendly community of Birchwood. It's the perfect stop for a group photo!
From Birchwood, you can head out on the well-known Spider Lake Loop and enjoy some stunning scenery. If you're hungry, there are plenty of great stops in the Village of Birchwood, hit the Spider Lake Saloon along the trail or venture over to one of the many restaurants around Long Lake. From the Long Lake/Birchwood area, head over on Trail 140 and 4 to the Wild Rivers State Trail. This 96 mile long trail, connecting Rice Lake to Superior, heads north/south through Washburn County and is a great connector to the county trail system. Stop in Spooner at the Railroad Memories Museum, another great stop on the ATV scenic tour, or take a walk around the downtown shops (several have awesome ice cream!) before heading north.
Continue to follow the Wild Rivers Trail just north of Trego to find an incredibly scenic overlook of the Namekagon River, part of the national park system. This river is # 20 on the ATV Scenic Tour and offers an exceptional glimpse at a wild river which was once an integral part of the logging boom of Northwest Wisconsin.
Just past the Namekagon River overlook, trail 39 will head off to the east, bringing you through a dense tract of county forest land with what seems like endless trails. You'll cross several creeks and may encounter some active logging along the trail as well. Be sure to slow down and wave to the crews working hard to manage our vast timber resources. It is those productive harvests and land management practices that allow the county to own large parcels of land for us to use for recreation.
Near the intersection of trail 39 and 8 you'll find the Stony Brook Rest Area. This is a great stop for a BBQ with a shelter, grills, and restroom so you may wish to pack some hot dogs to throw on the grill! From here, you can access Hayward to the east or head west toward Minong.
After a great day of riding, you'll find several lodging options in the Minong area. Whether you choose to travel west to the beautiful Heartwood Conference Center & Retreat to stay in immaculate northwoods cabins, stay at the Wild Rivers Trail Inn, which as its title indicates, has incredible access to the trail, or set up camp at the Minong ATV Campground, you'll have great access to the trails, gas and lodging when you overnight in Minong. The Longbranch Smokehouse & Grille is a must if you're hungry for great bar-b-que and for breakfast you'll definitely want to stop in to Wendy's Place for a great home-cooked meal.
With all of the great ATV-friendly businesses you'll encounter along the Washburn County ATV trail system and the scenic well-maintained trails, you may just decide to come back time and time again to keep discovering all the area has to offer. To learn more about ATVing in Washburn County or to order your free ATV Information Packet, visit washburncounty.org/what-to-do/atv.